Box office
Kaaitheater
Sainctelettesquare 20 Square Sainctelette, 1000 Brussels
tickets@kfda.be | +32 (0)2 210 87 37
Start ticket sales: 06.04, 11:00
We encourage you to book in advance to ensure your place.
06.04 — 06.05
Wednesday — Saturday, 11:00 — 18:00
07.05 — 28.05
Every day, 12:00 — 20:00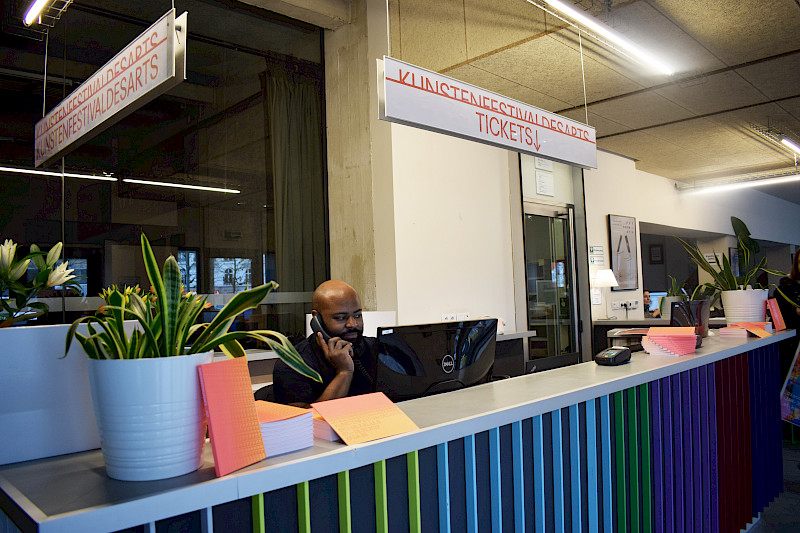 Prices and reductions
prices
Each performance has a standard and a reduced price which you can find on the event page.
discounts
The reduced rate applies to those who meet the following conditions:
When buying min. 1 ticket for 4 different projects
When buying min. 10 tickets for the same project
-25 / +65
Unemployed
Teacher's card
European Disability Card (EDC)
oKo
Performing arts professionals
People with limited means are entitled to a reduction rate. Only available at the box office:
Festival pass: € 200
One personal pass to discover our entire programme! Thanks to this pass you can book one ticket per show for as many shows as you like (max. 1 ticket/event, booking in advance required).
Buy your festival pass here
Youth pass: € 5 = - 50%
Are you under 25 or a student? For € 5 you get a promo code which gives you a 50% discount on the standard price (max. 1 ticket/project).
Buy your youth pass here
Solidary ticket
You can contribute to the solidarity ticket fund by adding € 1 or more to your purchases. The tickets collected will be redistributed to charities and social services.
Solidaire douche solidaire
You can offer a shower to a homeless person for € 5 by DoucheFLUX. Donate here or at our box office.
Need help?
Can't find your way through the prices and discounts we offer or they don't fit your budget? Do not hesitate to contact our box office. They will guide you through the various possibilities in our discounted rates.
Waiting list
In case of a sold-out event, we will start a waiting list at the venue one hour before the start of the performance.
In case of cancellation
Tickets are refunded in the case of a cancellation of an event.
Health measures
Any sanitary measures that may apply on the day of the event will be communicated on our website and during your reservation.